Pan-fried Banana Bread
Pan fried banana bread with preserves and strawberries                                                   .
Vanilla Mascarpone
Vanilla Mascarpone
French Toast
Sourdough, egg wash, vanilla essence, whipped cream,
caramel syrup
Aussie English Muffins
Vegemite, bacon, poached eggs, smashed avocado                  .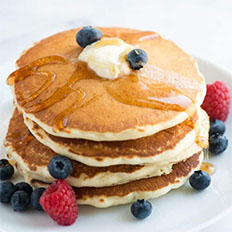 Pancakes
Fluffy vanilla bean pancakes, seasonal fresh berries,
yoghurt, berry compote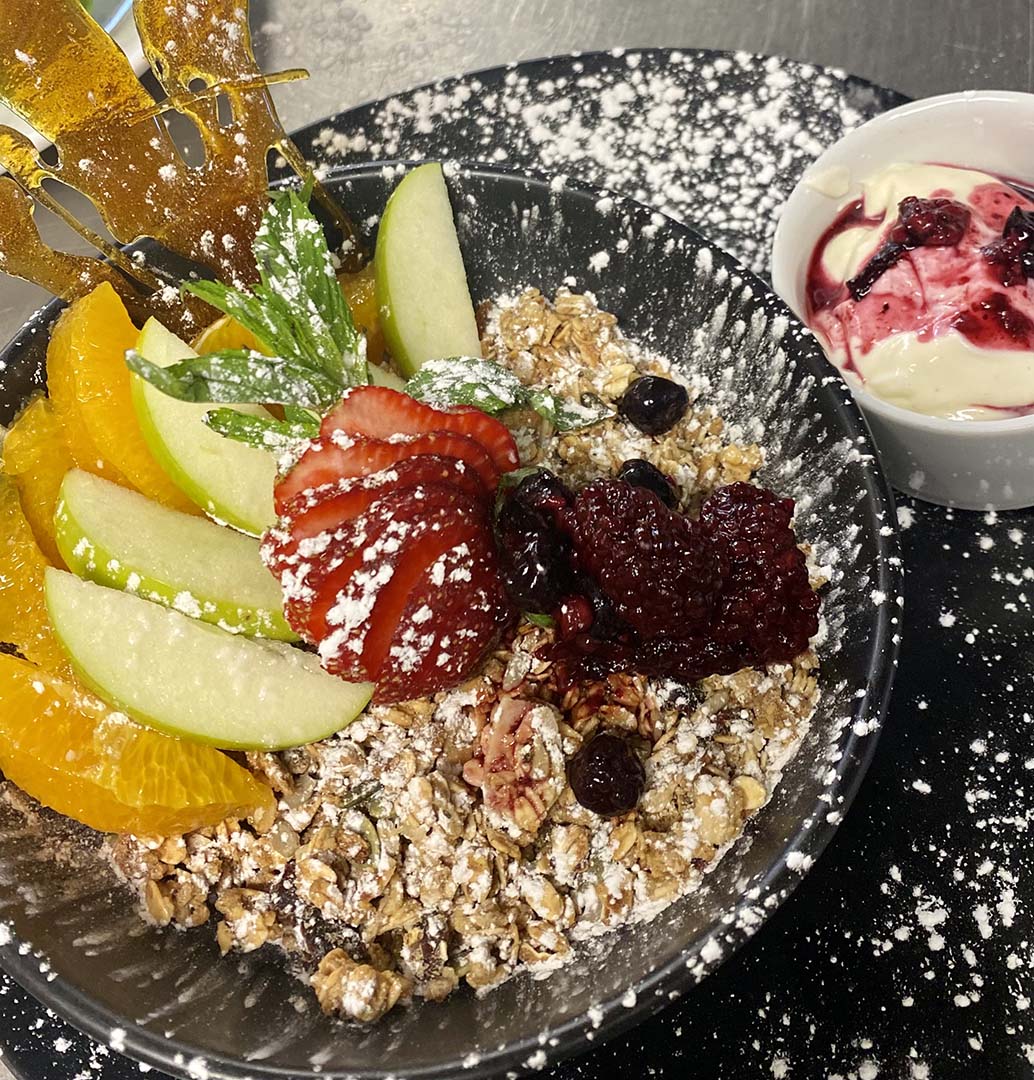 House made Granola
Served with greek style yoghurt,fresh seasonal, fruits and berry compote
Bacon and Egg on Toast
Eggs your way, bacon, sourdough toast
Toasties
Your choice of meat, 2 x fillings and sauce                                .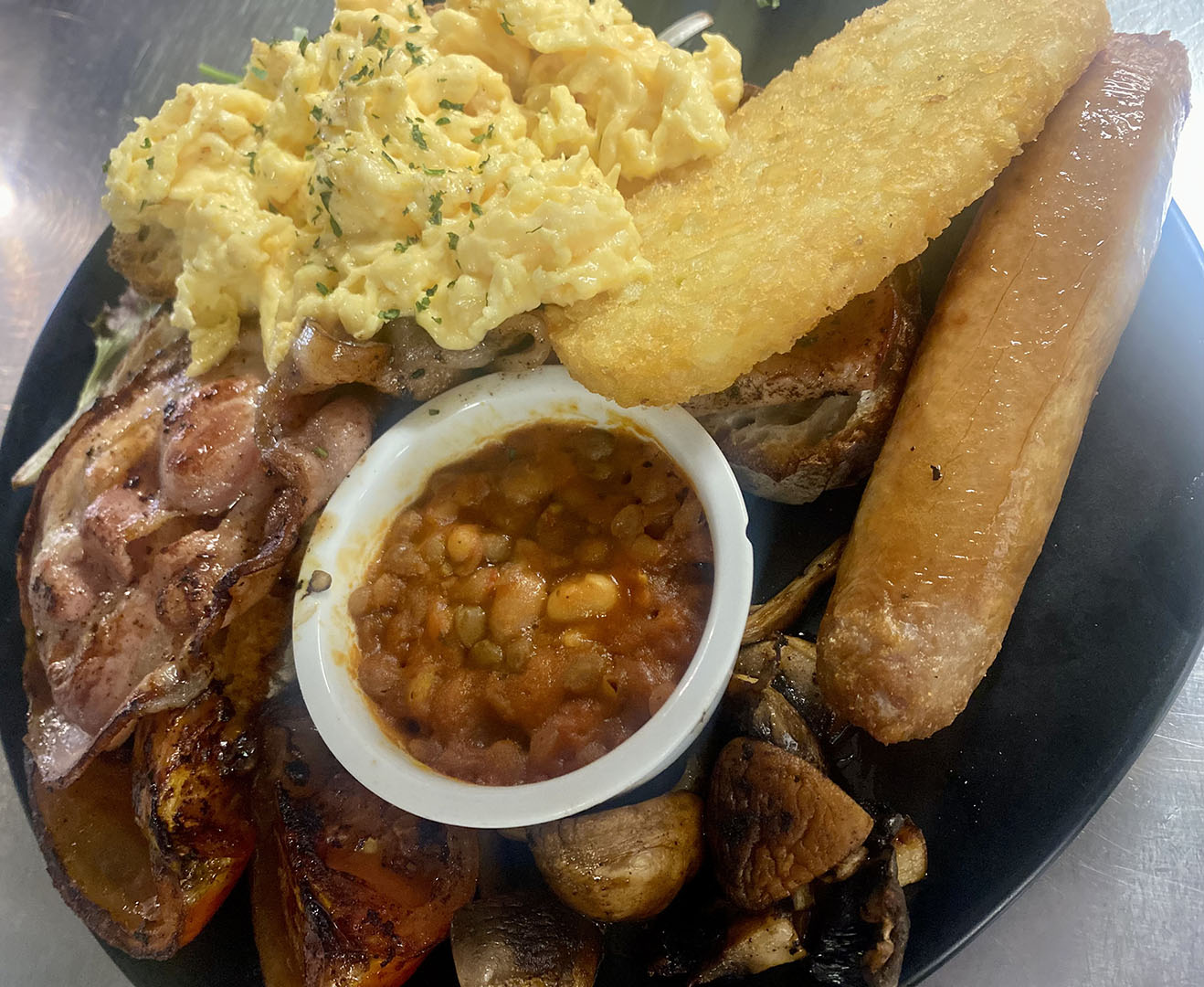 The Big Breakfast
Eggs, bacon, sausage, chilli beans, tomato, hash browns and mushrooms (vegetarian options available)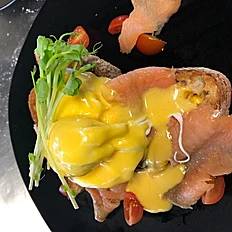 Eggs Florentine
Your choice salmon or bacon, soft poached eggs with salmon and hollandaise served on sourdough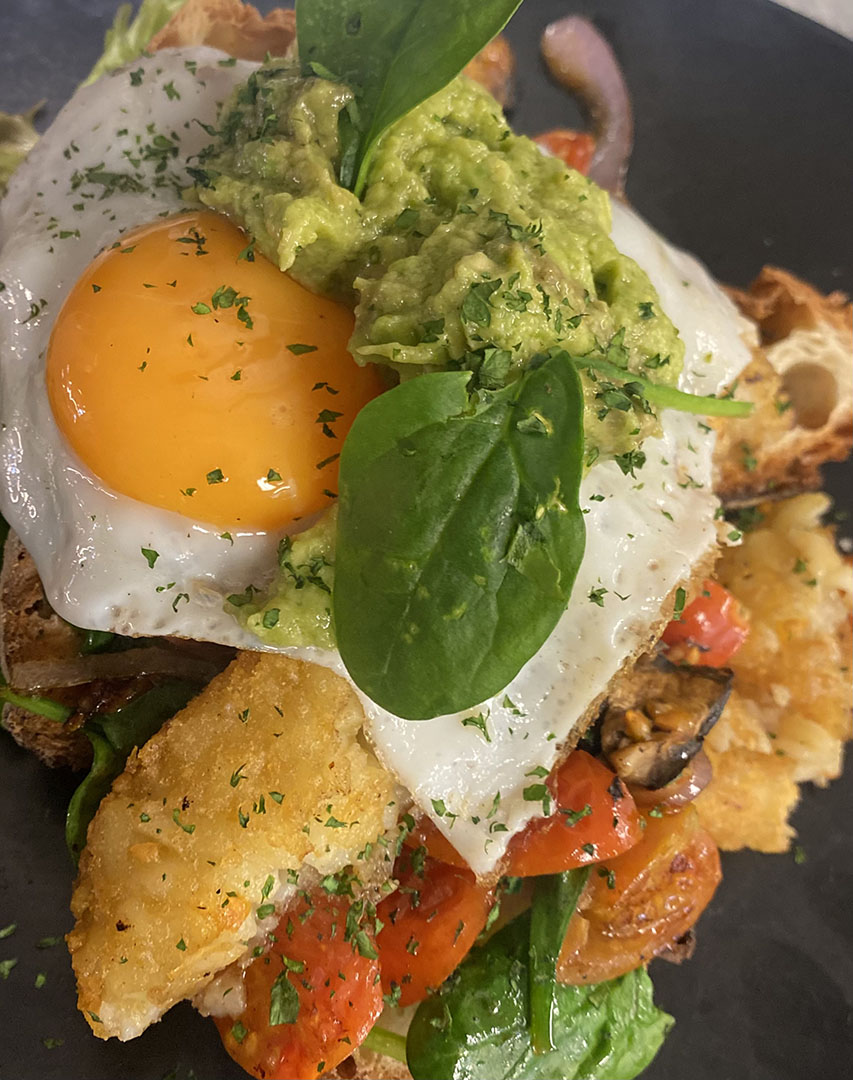 Vegie Smash
Hash brown, cheese, spinach, tomato, mushroom, fried egg, avocado, toast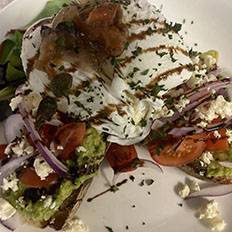 Breakfast Bruchetta
Cherry tomato, Spanish onion, smashed avocado, spinach, poached eggs, sourdough toast, feta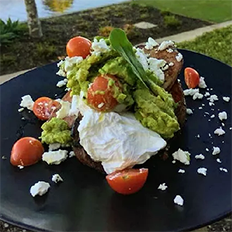 Bacon Avocado Smash
Served with poached eggs, bacon, tomato and danish feta on sourdough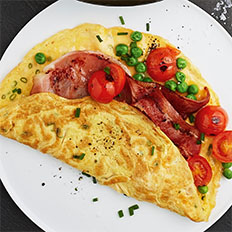 Omelette
Your choice of 1 meat, 2 fillings, bacon, sausage, ham, mushroom, cheese, caramelized onion, avocado, tomato.
Breakfast Wrap
Bacon, fried egg, cheese, BBQ sauce
Breakfast Burger
Bacon, fried egg, hash brown with BBQ or tomato sauce, potato bun
Pancakes
Maple Syrup, Fresh Strawberries, Ice Cream
Bacon and Egg on Sourdough Toast
Eggs your way
Mushroom, tomato, egg, hashbrown, spinach, feta, baked beans, hollandaise
Bacon, chicken, salmon, potato rosti, sausage
Halloumi, avocado, roast capsicum
FLAT WHITE / CAPPUCCINO / LATTE / HOT CHOCOLATE (Cup)
Tea
English Breakfast / Earl Grey / Peppermint / Green Tea / Lemon & Ginger / Orange & Passionfruit / Chamomile
Milkshake
Chocolate / Strawberry / Caramel / Vanilla
FLAT WHITE / CAPPUCCINO / LATTE / HOT CHOCOLATE (Mug)
LONG BLACK (Mug - 3 shots)
Juice
Orange / Apple / Pineapple / Cranberry / Tomato
Soy/Almond/Oat Milk/Lactose free
BLOODY MARY
AbsolutVodka, tomato juice, lemon juice, Worcestershire,
tobacco, pepper, celery salt, bacon
MIMOSA
Canti Prosecco, Orange Juice